New data released by the California Solar Initiative provides insight into trends impacting the California solar market (data through November of 2016).  Subscribe to Solar Leaderboard's Weekly Solar Index for the most real-time solar activity reports.
California Residential Solar Market Growth
Residential solar installations in November fell to 10,771, a decrease of 8% from November of 2015.  The California residential market has slowed in Q4, although will likely still show growth for 2016.  Through November, the residential market grew 7.4% from the same period in 2015 with 139,300 installations vs. 129,582 installations during the same period in 2015.  The slowdown is due to a number of factors, including high solar penetration in certain areas and the election.

California Residential Solar Market Share
National installer market share (SolarCity, Sunrun, and Vivint) continued to decline reaching 32% in November, down from 44% in the beginning of the year.  We researched this trend in Q2 of 2016 and attributed the decline to a pull-back in acquisition spend by national installers and increasing platform tools and support for regional installers within core financing and customer acquisition functions.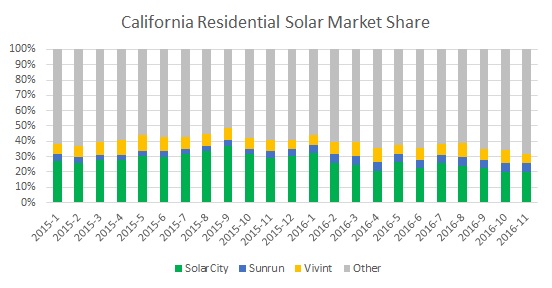 2016 California Solar Market By Customer Sector
A bright spot in the California Solar market was the Commercial sector, which has installed 222 MWs through November of 2016, approximately double the 114 MWs installed through the same time period in 2015.  The commercial market has been driven by corporate buyers, including Target, Walmart and Apple.  Financing companies, including Open Energy have helped open up the commercial solar market.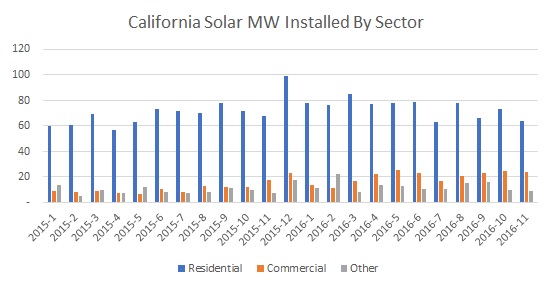 California Residential Solar Growth By County
Through 2016, San Diego County and Los Angeles counties saw mid-teens growth rates, while the Inland Empire counties (Riverside and San Bernardino) declined by 7% and 12% respectively.  Growth in San Diego continued despite a change to Net Metering 2.0 in July of 2016.  Net metering 2.0 included an additional interconnection fee and time of use rate structure.  SDG&E was the first investor-owned utility in California to transition to a new private solar program after meeting previous program limits and was named the #1 utility in America for renewable energy sales.