A portable solar cell phone charger is a great way to charge your mobile devices when you don't have easy access to an electrical outlet. Our readers that travel, work outdoors, or hike and camp frequently find these products invaluable to providing peace of mind that devices can be charged anywhere.
Some of these products are a power bank (a portable rechargeable battery pack) with a solar panel build onto it, while others are only solar panels without built in battery storage. We will discuss the pros and cons of each configuration for specific applications, giving you a well-rounded understanding of when each device would be a viable option for you.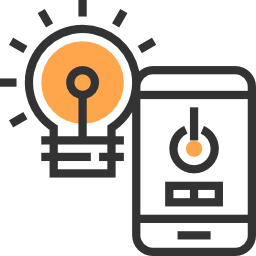 Besides being a convenient way to keep your devices working when you are on the go, solar phone chargers offer you a chance to use an environmentally friendly and renewable energy source. These devices are increasingly popular as the cost of solar has declined significantly in the last decade (years ahead of the Department of Energy's forecast). We've done some extensive research to come up with the best 6 solar charging options to help you make an informed choice. If you are interested in charging larger appliances on an RV or boat, read our review of marine solar panels or solar panels for camping.
Editor's Summary Recommendation
Our favorite pick is the
Anker 21 W
Dual USB Solar Charger, it has a fast charge rate, is affordable, lightweight, and has a versatile design. The Anker also stands out as the highest quality as it uses high efficiency SunPower solar panels and a PowerIQ feature, which will discover and replicate the charging protocol of the device's original charger to safely channel the fastest possible charging speed. The Anker also has a rugged canvas construction that can be quickly unfolded and attached to a hiking pack. The Anker is a solar panel without a built-in power bank, but can be combined with a standard external power bank for storing your solar energy.
When it comes to choosing a power bank, we found that the Ruipu Solar charger 24000mah Portable Solar Power Bank is a good choice since it has a high charging capacity (can carry 5+ charges for a smart phone), all while being lightweight and easy to use.
We also like the Goal Zero products – they have the strongest brand recognition and were acquired by energy giant NRG in 2014, however, we feel that Anker offers significantly better value.
Models Reviewed
Solar Phone Charger Comparison Table
| | Panel Power Output | Configuration | Weight | Special Features | Phone Charge Time | |
| --- | --- | --- | --- | --- | --- | --- |
| Dizaul Solar Charger | 1.2 watts | Power Bank | 4 ounces | Waterproof, dustproof, shockproof, eco-friendly casing | 3 – 4 hours | Prices |
| Ruipu Solar Charger | 1 watt | Power Bank | 14 ounces | Solar conversion rate – 17 %, multiple charging methods | 2 – 3 hours | Prices |
| Anker 21W Dual USB Solar Charger | 21 watts | Solar Panel | 14.7 ounces | Foldable, versatile design, fast charging | 1 – 2 hours | Prices |
| RAVPower Solar Charger 16W | 16 watts | Solar Panel | 15.9 ounces | IC smart technology, 23.5 % solar energy conversion | 1 – 2 hours | Prices |
| Goal Zero Guide 10 Solar Recharging Kit | 7 watts | Solar Panel | 1.6 lbs. | Battery charging kit, 4x rechargeable AA batteries, LED flashlight | 2 – 3 hours | Prices |
| Nekteck 21W Solar Charger | 21 watts | Solar Panel | 18 ounces | Durable case, lightweight | 1 – 2 hours | Prices |
Best Solar Phone Chargers Overview
There are two main types of solar chargers that you can take advantage of:
Power Bank – This is very similar to a standard power bank, but has a solar cell array built into it. These generally have less charging power (measured in watts) and are used for small devices such as cell phones (vs. tablets or laptops).
Solar Panel – These products have more charging power than those with a built-in power bank (10-20 watts) and transfer energy directly from the sun to your device through a voltage controller. They do not hold the power so it can't work as a power bank and will only charge in direct sunlight. However, these products can be combined with an external power bank for extra security.
For people that hike and camp out often, having a larger solar panel that they can carry with them during the day will allow them to charge their devices while in the move. A popular option for many people is having both a foldable solar panel and a standard power bank that can hold onto a charge and be used later. The benefit of this approach is that users have the expanded solar charging area of a solar panel, which provides a faster charge with higher amperage.
There is a separate column for the battery bank's charging time directly from solar, as well as a column that shows how long the charging time for a standard cellphone would be if connected to one of these devices. Our standard smart phone devices in this instance were a Samsung Galaxy S8, which has a 3000mAh battery and an Apple iPhone 7, which has an almost identical 2900mAh battery and charge time.
The equation that is used to work out charge times is very simple. If your battery is rated at 1000mAh, and your charger is rated at 1A (1000mA) then your charger will take 1 hour to charge your battery. (1000 / 1000 = 1) if your battery back is rated at 5000mAh and your charger is rated at 2A (2000mA) then your charger will take 2.5 hours to charge your battery. (5000 / 2000 = 2.5).
If the charger is rated at 3 amps with a USB of 5 volts, then the total power is 15 watts (3 amps x 5 volts) and would require panels of at least 15 watts to realize a 3 amp charge. The solar panels are rated at full sun, so you should assume some energy loss (most of the 3 amp chargers are ~20 watt panels).
Solar Phone Charger Buyers Guide
When you are choosing the solar charger for your cell phone, you have to consider the following things:
Power Bank Or Solar Panel
When choosing between these two options, you have to consider what you really need the charger for. If you are a traveler, who uses the cell phone heavily on airplane trips or at trade shows, then you have to go for the power bank since it allows you to enjoy the charging benefits anywhere you go. If you are a fan of hiking or camping trips that include lengthy exposure to the sun and have multiple devices that you want to charge, then a solar panel is more optimal choice than a power bank.  Regardless or your use case, don't forget these helpful tips to extend the life of your smart phone charge.
Durability and Portability
If you are planning on carrying the battery bank in your backpack or bag, you need to make sure it's light enough for you to handle on a lengthy trip. Durability is also very important when you travel or engage in outdoor activities like hiking or camping.
An ideal solar panel should be water resistant, compact and foldable. This is so that you can fold the solar panel over your backpack during a hike which allows your devices to steadily charge throughout the day.
Charging Time
Charging time is determined by several factors, the most important of which is the amp output that the device is capable of. A rating of 1 to 2 amps will be sufficient for charging a cellular phone or small power bank quickly, depending on the device's capacity. The second biggest factor to consider is the mAhs (Milliamp hours) of the device that you are charging. The higher the capacity, the longer it will take for your device to charge up fully. Charging times and battery capacities can get complicated quickly, so double check the manufacturer's website before purchasing (Goal Zero has a great guide for its products).
Watts, Amps, and mAhs
Below is a list of some of the most common terms and features that are mentioned when we look at chargers, and understanding this simple terminology will help you to choose the best product for your particular needs (here is a more detailed glossary of battery terms).
mAh – Milliamp hours measure the capacity of a power bank in hours. The higher this value is, the more charge it can store inside of its batteries. This means that you can charge your devices for a longer duration the higher the mAh value is and the power bank itself takes longer to be charged, so be prepared to charge your power bank whenever you can.
Amps – Amps on a charger will determine how quick it takes to charge up your devices. 1 – 1.5 Amps is what you would find on a cellphone charger for a small smart phone. For a solar charger, more amps are required for better efficiency and faster device charging times. 2 – 3 amps would be ideal for a portable solar panel for charging your electronic devices.
Watts – Watts are the result of multiplying voltage by amps. Therefore, because we know that USB ports operate at around 5 volts, we can determine that a single 2 amp USB charger port would have a wattage rating of 10W and would require a 10W panel to charge at 2 amps. You can think of watts as being the overall power output capability of your solar charger, so if the above example has 2 ports of the same rating, then we would have a 20W device. (5 x 2 = 10 x 2 = 20).
Solar Phone Chargers: Detailed Reviews
This portable device solar charger from Anker offers a fast charging function at 2.4A when using only one port. The maximum output of 3 Amps is achieved only when charging 2 devices simultaneously as each port will operate at 1.5V each. A good way to think about this product is as an energy channeling device that transfers solar energy to your gadgets. The charger doesn't have built-in battery capacity so it doesn't hold any power, but users can plug in their own power bank if they have one that they wish to use. This is a well-designed unit that can withstand the elements and can be a good choice for picnics and camping trips. The Anker charger can channel energy whenever there is a source of light, meaning it doesn't necessarily require the sun to work. It can channel lamp light as well. Anker offers a 2000mAh power bank that they recommend for best results, giving you an ideal storage device for your solar energy.
Pros/Cons
Pros
Fast charging speed
Foldable and Compact Solar Panels
Can charge two devices simultaneously
Cons
Power bank sold separately
This solar charger is made by Dizaul, and it can charge two mobile devices simultaneously. The power bank is large enough to handle two standard cell phones at the same time, which is really convenient. The Solar Power Bank is durable and can be used under any conditions thanks to its shock-, dust- and water-proof case. This device can be thought of as a battery pack with a small solar panel array built into it, so its charging times will take longer than some of the bigger solar panel products in our review.
Pros/Cons
Pros
Small and Compact
It can charge a cell phone 2 – 3 times
Durable Build Quality
Cons
Slow solar charging speeds
This is a powerful power bank and is a great choice for people who find themselves traveling often. It has a high capacity battery pack built into it, meaning that it can charge a phone up to 6 times. This device can be charged from sunlight, light from lamps, USB ports, and standard electrical sockets. This is a versatile device, and it also comes with built in LEDs so that you can use it as an emergency flash light as well.
Pros/Cons
Pros
Fast Charging Speeds from power bank to devices.
2400 mAh Capacity.
3 x USB ports.
Cons
Slow Solar to Battery Bank Charging Speeds.
This solar panel features a special iSmart technology that checks what type of power input the connected device requires. It offers up to 23.5% energy conversion rate, which produces fast charging capacity for your devices. The solar panel doesn't act as a power bank so it offers only direct charging from the sun or other light sources. It is very durable, so it can easily be taken out when you go camping or on hiking trips. The device is also water-resistant thanks to a sturdy polyester and canvas case. Purchasing the RAVPower 16750mAh External Battery Pack gives users the flexibility of having a universal solar charging device and the option of combining it with a power bank when needed.
Pros/Cons
Pros
16W output
Durable and Tough
iSmart Charging Technology
Cons
Requires a very strong light source to channel energy properly
This is a 7-watt panel, which can charge your mobile devices as well as rechargeable batteries. It comes with four AA rechargeable batteries and a built-in flashlight. This model is a great portable option for traveling, hiking, picnicking, and other outdoor activities that are performed with sufficient sunlight.
Pros/Cons
Pros
Foldable and portable
Charges AA Batteries and USB Devices
Comes with a built-in flashlight
This solar panel cell phone charger is one of the lightest (18oz) and portable options available on the market today. The device is powerful enough to charge two gadget at once and also very lightweight. The durable case makes it easy to use in difficult weather conditions, including rain and snow. It takes about 1 to 2 hours to charge a cell phone, depending on the intensity of the sunlight, which is quite good. The charger comes with convenient clips so it's easy to attach to backpacks and tents. If you want to expand the solar charger's capabilities, then they offer a 20000mAh power bank that you can purchase separately, if you don't already own one. This allows you to store excess solar energy so that you can charge your other devices in the evening, or use a 5v USB device such as an LED light or fan when there is no direct sunlight.
Pros/Cons
Pros
Fast Charging With Direct Sunlight
Dual Charging Capabilities
12-months warranty
Cons
Needs Direct Sunlight to Work Properly.