Sunrun has received a lot of attention from the analyst community recently with an upgrade from Credit Suisse (price target of $15) and initiating coverage by Roth Capital ($10) while shares trade at only ~$7. Sunrun will release earnings on Tuesday, March 6th and our solar installation data and company-specific trends suggest that the company will have a strong quarter and meet or exceed its guidance. In addition, we believe Sunrun represents an attractive value relative to its net earning assets and has the strongest position in the U.S. residential solar market.
Recovery of the U.S. Residential Solar Market
It has been a difficult year for residential solar with 2017 installation volumes declining an estimated 14% from 2016 according to Ohm Analytics' Solar Index, but the market been recovering and this bodes well for Sunrun's Q4 results. The market decline was primarily driven by SolarCity/Tesla's decision to pull-back on acquisition spend (according to Tesla's recent investor letter) at the end of 2016, which impacted the entire market. Tesla's strategy change resulted in a "reset" of the solar market with installation volumes declining 19% in Q1-17 vs. Q4-16, but the market has grown sequentially each quarter since then. In Q4-17, volumes increased by more than 5% from Q3-17 (index increased from 83% to 87%). California, which accounts for nearly half of the U.S. solar market, increased 6% in Q3 vs. Q4. Sunrun, which has been increasing market share in 2017, likely benefited from this overall market recovery.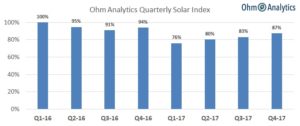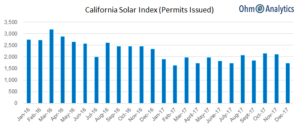 Positive Trends For SunRun
In addition to the overall market recovery, we expect that Sunrun benefited from several company-specific tailwinds in Q4, including (i) continued increase in market share, (ii) its partnership with Comcast and (iii) the return of the Nevada market, all of which should continue to benefit the company in 2018.
Increasing Market Share
As noted in the company's most recent investor presentation, Sunrun has been increasing its market share steadily from 8% in the beginning of 2015 to 13% in Q2-17. Credit Suisse analyst Michael Weinstein recently noted that Sunrun will "continue to gain market share in the residential solar market bolstered by a multi-channel approach, access to financing and focus on value creation." We agree with Weinstein that Sunrun's multi-channel approach is differentiated and will position them to continue to gain share.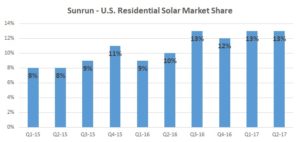 Source: Sunrun December Investor Presentation (pg. 6).
Return of the Nevada Market
As noted in our February article, Nevada passed new legislation in June of 2017, AB 405, that reversed 2015 rate increases and re-instated net metering. Following the passing of AB 405, the market has rebounded to nearly 200 a month – a healthy recovery, which should continue in 2018, but still a fraction of the frothy market in 2015. Through 2016, Nevada was a top 5 solar states in the U.S., so it moves the needle for solar installers and also influences solar policy in other states.
As part of the recovery, Sunrun has regained its market share of ~20% while Tesla's share declined from 50% to less than 20%.


Source: OhmAnalytics solar permit installation database.
Partnership with Comcast
In August 2017, Sunrun and Comcast announced a 40-month partnership with Comcast as the company's exclusive solar energy partner with an equity and fee arrangement based on the success of the partnership. Comcast has 30 million customers and more than half of those are in the 22 states that Sunrun operated in at the time of the announcement. According to an 8-K filed on August 24, 2017, Comcast will earn sales and leads fees as part of the agreement and these customer acquisition costs are projected to be "materially lower per watt on average, as compared to the company's current customer acquisition costs."  The partnership is structured with payment milestones at 30,000 and 60,000 customers, which would be approximately 20%-40% of the company's current installed base of 160,000. As noted in the company's Q3 earnings call, the partnership marketing efforts started in Q4, so we expect some impact to Q4 and a greater impact to 2018 deployments.
Conclusion and Valuation
We expect that Sunrun will meet or exceed its projected deployments of 87 MW in Q4 (325MW for the full year) given the strong recovery in the solar market in Q4 and several company-specific tailwinds discussed in the article. Furthermore, we think Sunrun is well-positioned to continue to outpace its competition in 2018 with its multi-channel approach and could be an attractive purchase given the current price ($7) compared to the value of its net earning assets ($10 per share) and recent analyst targets ($10-$15).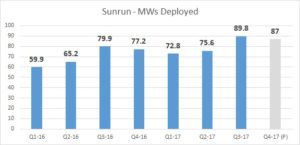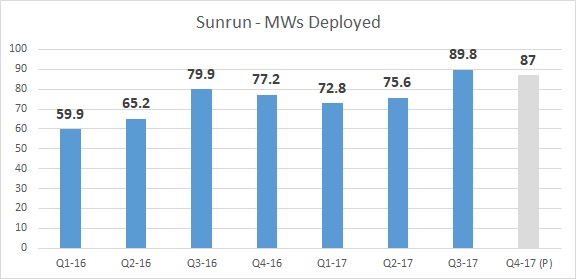 Source: Sunrun December investor presentation.