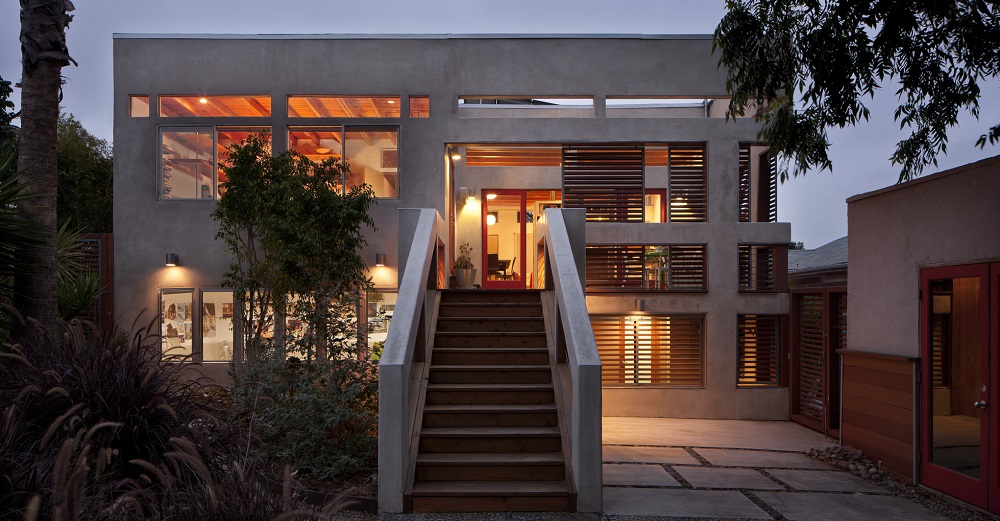 Want to reduce your utility bill?
Turn up the AC in the summer without a huge bill?
Help the environment by switching to clean energy?
Great! These are all reasons that homeowners in California have been going solar (over 400,000 of them!).
If you've started to do some initial research or talked to a few solar companies, your head may be spinning with investment return calculations, leasing vs. buying pros and cons, and panel and inverter options.
We understand – solar can be complicated at first, but it doesn't have to be.
The research team at Ohmhome has compiled this guide to solar panels in California to help you through the process.  The good news for homeowners in California thinking about going solar is that there is a lot of data available on cost, system sizes and financing options.
We've summarized this data, which is from the California Solar Initiative and was updated on December 2016. There is a lot of valuable information, so hang on (or just reference the table of contents)!
OhmHome California Solar Guide
All Data As of December 31st 2016 (Based on 33,899 Installations)
Average Cost of Solar Installations in California After ITC in 2017
This is the average price California homeowners paid for cash purchased systems after deducting the 30% federal ITC tax credit.

Average System Size of Residential Solar in California in 2017
System size is based on a home's current energy requirements, roof style, and shading. On average, homes in California have solar installations of 6.1kW.

Average Price Per Watt of Residential Solar in California After Federal ITC
Solar companies typically quote on a cost per watt basis (1,000 watts per kW), so it is helpful to understand the market averages. Price per watt can vary based on system size, installation complexity and equipment quality.


Cost of Solar Panels in California
OhmHome's research on solar system pricing shows that a lot of consumers are paying above market prices for solar.
Of course not all systems are the same and the price per watt can be impacted by several factors: equipment choices (premium vs. standard panel brands), system size and the installation details (roof upgrades or style of roof).
With that being said, the data below, which is based on recent installations, can provide a good gauge to ensure that you do not overpay for solar. 
In general, larger solar systems will cost less per kilowatt as there are certain fixed costs associated with an installation, so it is important to evaluate pricing by large systems (defined as 5-8 KWs) and medium systems (2-5 KWs). In addition, it is important to look at pricing distributions vs. averages or medians if you want to understand what a good deal is on a solar system.
For larger systems, the average cost of solar panels in California is $4.08 per watt (before incentives) and 25% of consumers paid less than $3.46 per watt.
For a medium system, the average cost of solar panels in California is $4.96 (before incentives) and 25% of consumers paid less than $4.00 per watt. So if you are looking to get the best price for a solar system in California and have an average sized system, you should find an installer below $3.50 per watt.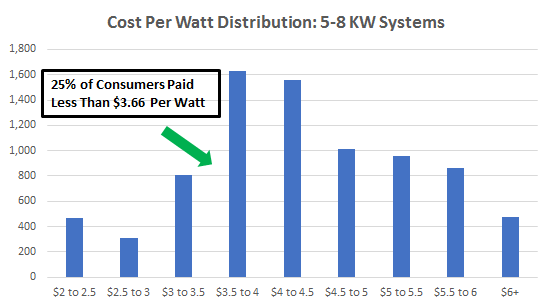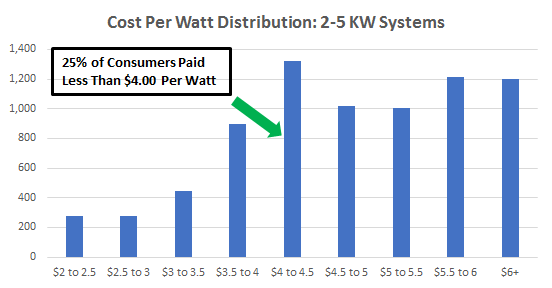 Solar Financing and Installation Trends in California
Residential solar installations have increased significantly in California, although growth slowed in 2016.
The slowdown in installation activity and installer turmoil, has created a buying opportunity for consumers. 
From 2010 to 2016, installations have increased from 18,000 to 150,000, making California the largest residential solar market in the U.S. by a wide margin. By 2016, certain counties in California had more than 100 solar homes per 1,000 homes (based on U.S. census count of single detached homes).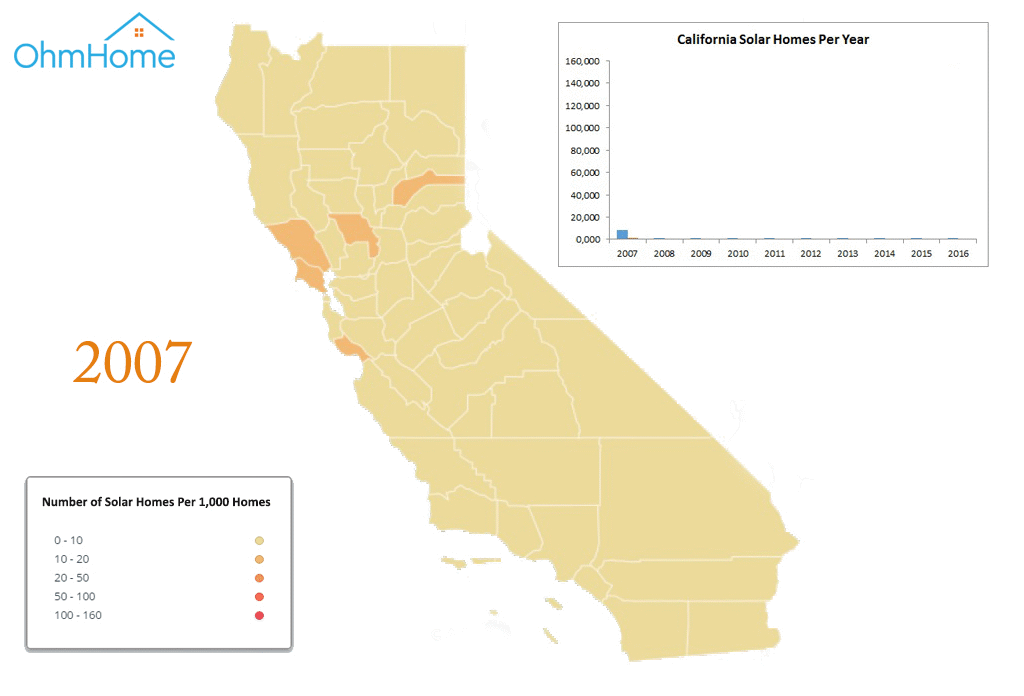 Solar Trends in California:
June 2017 Update
OhmHome tracks local solar activity on a monthly basis to provide insight into local markets for consumers.
Per OhmHome's Solar Index, California solar permits decreased 29% to 1,824 in June from 2,566 in June 2016 and decreased 8% from May 2017 (YTD decrease of 34%).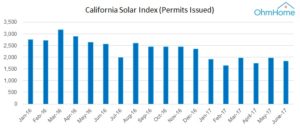 Solar Financing in California
Solar financing is simple, right?!
If you are still scratching your head about the differences between leases, PPAs, and purchases, refer to our lease vs. buy guide to understand the implications of solar financing options.
Before deciding on a solar financing option, you'll want to understand how those options fit with your situation, but OhmHome tracks market trends to understand what other folks are using.
In 2016, 54% of consumers purchased their solar system either with cash or a loan vs. and 46% used a lease or power purchase agreement (PPA) structure.  The percentage of consumers that purchased their solar system in California has increased in 2016 due to an increasing number of low-cost solar loans.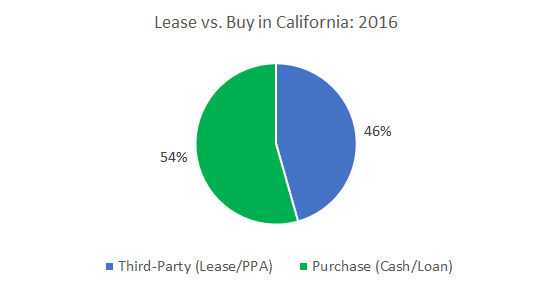 Solar Incentives and Rebates in California
State and federal incentives can significantly reduce the net cost of a solar system. The federal solar tax credit incentive (30% of cost) is available in all states until 2019 at which point it will start to decrease (22% by 2022).
In 2008 in California, the state required that all electric utilities provide rebates for solar installations and currently all of the rebates for the large investor-owned utility territory (SDG&E, PG&E and SCE) have been exhausted. If you purchase electricity from a municipal utility, refer to this list here to understand if rebates are still available.
Top Solar Companies in California
If you don't have the time to become an expert on solar equipment, economics and installations, a good shortcut is to find a trustworthy and capable solar company.
Choosing a solar installer is arguably the most important step of going solar and we recommend reading our guide on how to choose a solar company.  An important consideration is whether to use a large national installer or a local installer. In many cases, a local installer that does not have high customer acquisition costs can offer you a better deal.
In California in 2016, approximately 63% of consumers chose a local installer vs. 37% that chose a national installer (SolarCity, Vivint or Sunrun).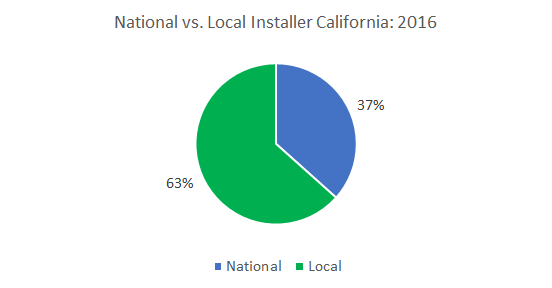 Our Major California City Solar Guides