Since Tesla acquired SolarCity in 2016, the company's solar business has deteriorated with volumes falling 38% from 836 MWs in 2016 to 522 MWs in 2017. Most of the decline was self-inflicted, as the company reduced its sales and marketing spend and moved away from a door-to-door sales model. Ohm Analytics'  Q-18 installation data indicates that Tesla's solar business has hit a bottom and actually increased market share slightly in Q1-18 vs. Q4-17.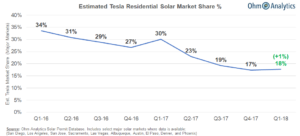 Positive Drivers
With Tesla's solar business stabilized, 2018 will be a critical year to prove out the company's new solar strategy as several components are now in place.

Increasing Scrutiny of Tesla's SolarCity Acquisition
The stabilization of Tesla's solar business in Q1-18 is well-timed as the company is facing increased scrutiny of its 2016 purchase of SolarCity. At the end of March, a Delaware judge ruled that shareholders could move forward with a lawsuit claiming that the deal was not in the best interest of shareholders due to conflicts of interest with Elon Musk and the Board.
The 1% increase in market share in Q1 is a positive milestone for the company, but 2018 will be a critical year to prove to the market and shareholders that the SolarCity acquisition was a good deal. There appears to be multiple components of the rebuild strategy in place, but similar to the Model 3 launch, it will all come down to timing and execution.
For more information on Ohm Analytics data sources, please refer to our Q1-18 report release.