Jeff Bezos recently let the world know Amazon supports clean energy by smashing a champagne bottle while perched on the top of a wind turbine. It was a powerful statement and almost makes you forget the image of the nerdy 34-year old that was just trying to sell a lot of books 20 years ago.
Amazon and other large technology companies have covered the press with their corporate clean energy strategy; however, Amazon has been more private about its consumer cleantech product strategy. These are the products that are rapidly taking a more important role in consumers' homes: solar panels, electric vehicle chargers, smart home energy gadgets, and energy efficient connected appliances.
In a research brief, we evaluate Amazon's consumer cleantech product strategy vs. Home Depot's and Walmart's, grading each retailer on pricing, brand selection and home installation services.  The results of the research were surprising and we think Amazon realizes that these products will be a key component to the overall strategy to further embed the company into consumers' daily lives at home.
Key Findings
Our summary findings, discussed in more detail below, were the following:
Amazon currently has the lead over Walmart and Home Depot in consumer cleantech products with stronger brand selection and pricing and comparable home installation services.
Amazon had the lowest prices in every category and 7% lower total prices than Walmart and Home Depot.
Amazon beat out Walmart and Home Depot on brand selection and carries all major brands within these categories. Walmart and Home Depot lacked key niche brands.
Home Depot currently has the edge on Amazon for larger remodeling project purchases and installation services, but we believe that could change overtime.
Walmart, who is offering home installation services via multiple partnerships, is behind the learning curve.
The final scores across the three factors was Amazon (4.7/5.0), Home Depot (3.9/5.0) and Walmart (3.4/5.0).
Our Research Approach
The goal of our research was to determine which retailer (Amazon, Home Depot, or Walmart) has the strongest overall consumer cleantech product offering and strategy, so we considered other factors than price, including brand selection and home installation services.
Since cleantech product categories are relatively new, brand names are important and consumers are more focused on getting the right technology versus saving a few dollars. So we evaluated a retailer's brand selection by the number of the top 5 brands they carry. If you are shopping for an electric vehicle charging station for a new $40,000 Chevy Bolt, you want to make sure its a trusted brand that won't damage the car's charging system.
Many cleantech products can be complicated to install and may require knowledge of electrical systems (home energy monitor, EV chargers), heavy lifting (appliances) or technical knowledge (smart thermostat, smart sprinklers), so we evaluated the retailers home installation services.  We also believe that a well-executed home installation strategy will be a competitive advantage for retailers going forward (see Home Installation Services section for more detail).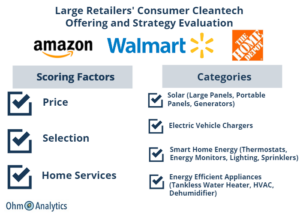 Brand Selection
Our research findings on cleantech brand selection reminded us of the meme that recently made its way around the internet. Amazon beat out Walmart and Home Depot on brand selection and carries all major brands within these categories due to the company's third party seller platform. Walmart.com also leverages third-party sellers, but still lacked some key brands.  The product categories in which Walmart and Home Depot lacked selection are rapidly growing, but more niche categories such as home energy monitors and electric vehicle chargers.
Our final scores for brand selection taking the average across the 4 product categories were Amazon 5.0, Home Depot 3.7 and Walmart 3.7.
Home Depot had a few EV charger brands, but as an example, does not carry Juicebox, a higher-end model and Walmart only sold an older version of the Juicebox through a third-party.  Both companies also lacked strong brands in real-time electricity monitors including the AI-driven and VC-backed Sense.  These may seem like unimportant categories now, but EV sales are expected to increase at 50% a year.  Home energy monitors are benefiting from rooftop solar growth and are also used to identify older appliances and manage smart home devices, which should be of interest to Walmart and Home Depot.
Overall, Walmart and Home Depot had comparable brand selections although there were some noticeable differences in certain product categories. Walmart and Home Depot both had nearly all major high efficiency and smart appliance brands. The only exception is the Sears Kenmore brand, which is only available on Amazon after the two retailers partnered in July 2017. Walmart had more brands in product categories that tailor towards outdoor recreation such as portable solar generators or smaller solar panels that are used for camping.  Home Depot had broader brand selection in household and yard categories including smart sprinklers.
Home Installation Services
Our research found that home installations services are a competitive strength for Home Depot (4.0/5.0) and Amazon (4.0/5.0) is on par with Home Depot in most aspects, but could encroach more on their territory in coming years. Walmart (3.0/5.0), who is operating via multiple partnerships, is behind the learning curve.
We were aware of the importance of on-demand home services to retailers before we started our research, but were shocked by the pace of acquisitions and partnership announcements. There has been a frenzy of announcements in the last 18 months that reads like a boxing match transcript between Amazon and Walmart. It also seems that FOMO (fear of missing out) has taken over executive suites, as even JC Penney launched a home replacement and remodeling program.  Below is a summary of the key announcements that we found in our research.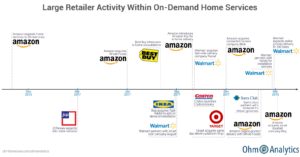 View Larger Image
Retailers are competing on multiple aspects including home installation services, grocery delivery and the technology that facilitates these services (smart door locks as an example), while our research focused solely on home installation. We evaluated the strength of the offering and strategy from a consumer's perspective.  Was the experience integrated and seamless or does it feel disjointed with numerous partners and touch points? How transparent was the process with respect to price, actual installation crews and prior customer reviews?
Home Depot (4.0/5.0) – Home Depot has offered installation services and financing packages through a network of contractors (whom it also services) for years and has a wide selection of installation services for larger ticket remodeling projects and several key cleantech projects, including solar installations (via Tesla and Sunrun) and EV charger installation. We did notice a few drawbacks relative to the competition and believe Amazon could start to encroach on Home Depot's consumer share if adjustments are not made. There were less installation options for these types of smaller projects and the consumer experience lacked transparency in some aspects and requires more effort from the consumers.
Amazon (4.0/5.0) – Amazon launched its Home Services division in 2015 and now offers a wide range of installation services from assembly/minor installations to medium-sized home improvement projects such as central air conditioning replacement. The main advantages of Amazon is that they have a high level of transparency and a more integrated experience with pricing estimates and service availability upfront and dedicated content on smart home services. The only area that Amazon falls short with Home Depot is the options for connecting with contractors for larger home remodeling projects (solar panel installation, window replacement, etc.). This is likely due to the nature of Amazon's product assortment, but we think that as consumers start to use Amazon Home Services for smaller projects more, they could start to expand to more general remodeling projects (such as windows).
Walmart (2.0/5/0) – Walmart is still playing catch up on the installation and assembly services only recently accounting a partnership with Handy in March of 2018. The company also has partnership with Porch, a home professionals network and HelloTech, a hometech expert network.  These partners offer pricing transparency and a very wide range of services, but it seems a bit disjointed from a consumer's perspective. As an example, based on the Handy landing page for the Walmart partnership it appears that in order to redeem an installation service, a user has to punch in an activation code from a receipt into Handy and then go through the scheduling and installation steps. Handy also does not offer upfront pricing only a recommend level of hours to book, which does not inspire confidence.
Pricing
Online pricing for major retailers is typically comparable as they monitor pricing and adjust to match their competitors, although there are occasional differences.  Amazon had the lowest prices in every category and 7% lower total prices than Walmart and Home Depot.  The most significant variances in pricing were in the solar panel and smart home energy categories with Walmart and Home Depot nearly 20% more expensive within solar panels. A Kalisaya KP401 Portable Solar Generator system, which can be used for recreation or remote outdoor jobs, was $499 at Walmart and Home Depot, but only $399 on Amazon.
Pricing was most comparable in the appliance category, where it appears that Amazon is still in the early stages of developing (as seen by their move with Kenmore).
Why Large Retailers Need to Focus on Cleantech
Why should large retailers be focused on their consumer cleantech offerings?  The first and most obvious reason is growth – these are rapidly growing categories and in some cases entirely new that have long runways.  Electric vehicle and charging station sales are expected to grow at nearly 50% a year through 2025.  The price of solar panels have dropped by ~70% in the last decade leading to the development of the rooftop solar market and an entire industry of solar panel accessories (portable solar generators, solar phone chargers, RV/marine solar applications, etc.).  The proliferation of smart phones and connected home technology have led to smart gadgets to help consumers manage their water usage (smart sprinklers), heating and cooling costs (smart thermostats) and electricity bills (home energy monitors) without leaving their couch. The trends that are driving this growth are not changing for the foreseeable future either – increasing electricity costs, concerns over climate change, aging population on fixed incomes, and electrification of transport systems.
The second reason why retailers should be focused on these categories is less obvious, but can be seen in the recent spur of retailer activity in on-demand home services.  These products are synergistic with other retailer categories and drive recurring sales and touch points, helping further embed retailers in consumers' daily lives at home. Thinking about trying to add smart home gadgets, but don't know where to start? Amazon or Walmart will send an expert to your house for a free consultation.  Interested in knowing what appliances are driving up your utility bill? An energy monitor will identify the issues and can connect to digital assistants to help you find replacements. Need a home charger installed for your new EV, but don't want to touch the electrical panel? These retailers will send an expert out to your home to install it for you.
Conclusion
Amazon currently has the lead over Walmart and Home Depot in consumer cleantech products with stronger brand selection and pricing and comparable home installation services. The final scores across the three factors was Amazon (4.7/5.0), Home Depot (3.9/5.0) and Walmart (3.4/5.0).
Home Depot is a close second given the company's established home improvement services business and partnerships with rooftop solar companies Tesla and Sunrun. In a February 2018 interview, Carole Tome, the CFO of Home Depot, said that Home Depot has "barrier islands" that are insulated from Amazon's threat and we agree One of these barrier islands is that Home Depot currently has the edge on Amazon for larger remodeling project purchases and installation services.
"So do we have an Amazon protected moat around our business? Of course not. But do we have barrier islands around our business? Yes, we do. Our job is to continue to invest in those barrier islands."  – Home Depot CFO Carole Tome (Feb. 2018)
However, Amazon's Home Service experience offers more transparency and could start to take share from Home Depot as consumers consider Amazon as a realistic option when completing larger remodeling projects. So although you can't currently order your rooftop solar on Amazon, one can envision a scenario in the future where Jeff Bezos wants to put solar panels on your roof.
Supporting Data and Methodology
Most of the supporting data for our conclusions are included in this article and if you would like to see the full back-up with product links and model numbers, please email us at research(at)ohmhomenow.com.
Pricing – All pricing was taken as of 4/9 directly from the website (except for smart sprinklers due to product availability changes). Almost all products that we used for pricing comparisons were sold directly from the retailer with free shipping for comparability and manufacturer model numbers were used to ensure accurate matching. For each major product group (solar, EV chargers, smart home energy, and energy efficient appliances) product prices were totaled and compared to the retailer with the lowest total price.  Scoring (0-5) was based on the comparison to the lowest total prices (100%-105% = 4/5), (105%-110% = 4/5) and (>110% = 3/5) and then an average was taken for the overall pricing score.
Selection – We picked 5 of the top brands for each product category and used expert review sites (Consumer Reports and Wirecutter) to determine the top brands that are most sought after by consumers. Scoring (0-5) was based on the number of brands within each major product group and then an average was taken for the overall selection score.
Home Installation Services – Home Services scoring was based on OhmAnalytics' overall evaluation of the experience via the ecommerce websites.
Overall Score – The overall score was calculated as an average of the 0-5 score for Pricing, Selection and Home Services.