Intelligently-controlled smart homes have been at the forefront of our futuristic vision of modern living for decades. There have been many different ideas about what an automated smart home might look like and many of us are still waiting for a future that looks like The Jetsons. Smart home technologies however have made some huge leaps and bounds in recent years with functionality and interconnectedness. Large tech companies including Google and Amazon are investing billions to lead the smart home race.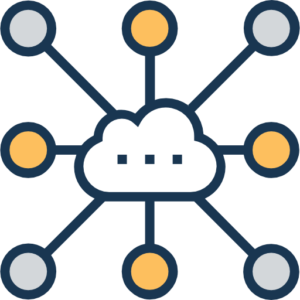 But what makes a smart home? The basic premise is that different features and functions within the home need to be automated, scheduled and remotely controlled by the homeowner to provide both convenience and financial savings. Lighting, home entertainment systems, access control, home automation (garage doors and electric gates), security systems and much more can be controlled by your smart home setup, and at the heart of this setup is your smart hub device.
Carley Knobloch, who lead's HGTV's smart home research recently described the current smart home landscape as the "Wild West" as navigating the compatibility and connectivity standards can be difficult for consumers. Having a good smart home hub can help tame the "wild west" for the average consumer. A smart home hub will not only give you remote control over your devices, but it can also proactively offer you insights into your home's environment, including electricity consumption using an intelligent home energy monitor. Several smart home hubs also centralize sensors (window/doors, water, motion, etc.), so you can be alerted when there is activity in your house or yard when you are away or if a faucet is leaking.
There are over 20 options for smart home hubs and many that specialize in a specific area (lighting, sound or security) and we have included a discussion of these niche hubs at the end of the review. We focused our research on the four major smart home hubs that allow the greatest breadth of device compatibility and support. It is important to note that even our top picks have shortfalls and unlike smart thermostats or electric vehicle chargers or smart lighting, there is not one clear winner. So be prepared for some minor installation research and frustrations in setting up any smart home hub.
Editor's Recommendation
Our top recommendation for most consumers is the Samsung Smart Things as it is the most advanced hub on the market and it supports most wireless standards including Zigbee, Z-wave, Bluetooth and Wi-fi and is compatible with the widest range of smart devices. Some consumers complain about the usability of the smart app (it has many layers), but that is manageable and should improve with future releases. Our second pick is the Wink 2, which is similar to the Samsung Smart Thing in terms of compatibility and has solved many of the prior issues with the original Wink. A key differentiator of the Wink 2 is that it does not require an ethernet connection to the wireless network, so can be placed anywhere in the house which works well for houses with a large layout.
We have also included a review of the Amazon EchoPlus, which was recently released in October 2017. Amazon has been very active in the smart home space with Echo and Echo dots, which serve as voice-activated assistance that can integrate directly with smart home devices or hubs (including SmartThings), but they are not traditional hubs. The EchoPlus is Amazon's first entry into the hub segment, as it serves as both a smart hub and smart speaker, which uses Amazon's Alexa system. This is a smart move by Amazon as it means that customers can purchase a single device that does the work of two. However, initial reviews of the device have been lukewarm with consumers citing the shortfall that the EchoPlus is only compatible with Zigbee devices, so will not work for consumers that want to substitute it for a hub that has existing Z-wave devices. Consumers have also noted that the speaker is not an upgrade from the original Echo. We think these issues could be temporary and that Amazon has a long-term interest in controlling the hub category.
The Apple HomeKit breaks the mold in typical Apple fashion by removing the need for a third-party smart home hub. Die-hard Apple product cans can use the Apple Homekit to set up basic smart home systems and control them via an I-phone or I-pad when at home. For remote control while away from your home's Wi-Fi network (similar to functionality with other hubs), the Apple TV is required (see more detail in that section). This is a good alternative for those that are more comfortable with Apple products and do not need the same level of device interconnection and scheduling that comes with traditional smart home hubs.
Models Reviewed
Smart Home Hubs: Comparison
| Model | Snapshot | Protocol | Compatibility | |
| --- | --- | --- | --- | --- |
| Samsung SmartThings Smart Home Hub | Most Expansive Compatibility | Z-Wave, Zigbee | Alexa | Prices |
| Wink Hub 2 | Excellent Automation System | Wi-Fi, Z-Wave,Zigbee | Alexa, Apple Home Kit, Google Assistant | Prices |
| Amazon Echo Plus | Smart Hub and Speaker In One | Wi-Fi, Zigbee, Bluetooth | Alexa | Prices |
| Apple Homekit | Smart Hub and Speaker In One | Wi-Fi, Bluetooth | Apple TV, Apple iPad, Apple iPhone | Prices |
Smart Home Hubs 101
Smart home hubs offer several major benefits:
Connecting multiple devices from different manufacturers. The smart home hubs that we reviewed are either Zigbee or Z-Wave capable, or both. These are the wireless radio signals that smart home devices use to communicate with the smart hub and each other. Zigbee and Z-Wave are two of the most successful industry standards for these wireless signals. The smart hub then connects to your home wireless network (either directly or wireless) and the internet, and can communicate with the homeowner's smart phone and tablet or PC. Other smart home devices also use Wi-Fi and Bluetooth to connect to your smart hub depending on their specifications.
Automated and centralized control of smart home devices. The primary function of a smart hub is to act as the command center for all smart devices. Once connected via a smart phone or tablet, the hub is able to communicate with each individual component of the smart home network. This then provides users with one interface that allows them to use all of their smart device features.
Scheduling and remote control of smart home devices. Each of these devices has their own implementation of scheduling, allowing for lighting, cooling and heating activity to happen at certain times of the day or night. The Nest Smart Thermostat as an example will learn your morning routine and combine that with weather forecasts and user inputs to automatically turn on the heat an hour before you wake up. A smart home hub can centralize all of these scheduling features or create their own. The SmartThings hub as an example has a Routines feature, so you can set a "I'm Back" routine, which will unlock your doors, turn on your lights and your AC.
Financial savings Smart hubs and a combination of devices can quickly exceed a $1,000 budget, but a hub purchase can be offset partially by energy bill savings. The hub can create scheduling for lighting, electrical appliances, and heating and cooling that they can be powered off automatically when not needed.
Best Smart Home Hub Units: Detailed Reviews
Samsung Smart Things as it is the most advanced hub on the market and it supports most wireless standards including Zigbee, Z-wave, Bluetooth and Wi-fi and is compatible with the widest range of smart devices. This gives home owners much more choice when it comes to adding smart devices to their setup and reduces headaches for ensuring each new component is compatible (vs. Amazon EchoPlus).
There is a battery backup feature in this device, which comes in the form of four AA batteries. Wi-Fi is not built into this device, however, so you will need to plug this Smart Hub into your Wi-Fi router with an Ethernet cable in order to connect to it with your smartphone or tablet. This isn't a deal breaker, however, as almost everyone that will be purchasing and installing such a device should already have a Wi-Fi router.
Installation of the SmartThings hub is fairly straightforward, but some users complain about the complexity of the app – it has numerous navigation menus, icons and submenus.
A helpful feature of SmartThings is its Routines features, which allow you to create scheduled sets that trigger control of multiple devices simultaneously (Good Morning, Good Night!, Goodbye!, and I'm Back!). A user could set a Good Morning routine to turn on the lights and heat at 6:30 AM.
The SmartThings can also be combined with numerous Samsung sensors, including water leaks, motion, arrival (set to smartphone), smoke alarms, window/doors and carbon monoxide sensors.
Samsung has done an excellent job of creating a software application that is easy to use from mobile devices, and Alexa integration is quick and works seamlessly with the Samsung SmartThings Smart Home Hub. Developers within the online Samsung community are actively working on improving and adding new devices to their compatibility list all the time, so if your device doesn't work with it yet, then it may be added in a future release.
Pros/Cons
Pros
Compact design, no bigger than a smartphone
Great connectivity with Z-Wave and Zigbee devices
IOS and Android supported app
Cons
App interface can be problematic
No built in Wi-Fi
AA batteries are an unusual choice for backup power
Compatibility – What Do I Need to Make It Work?
A Wi-Fi enabled router with a spare LAN port to plug the SmartThings unit into, and an IOS or Android smartphone or tablet.
The Wink Hub 2 has to be one of the most compatible devices on the market. They have taken a look at the current disparate state of smart devices and added extra layers of compatibility into their flagship smart hub. All of these devices can be controlled from the free Wink app on your smartphone or tablet.
Wink 2's auto discovery of devices allows for a very easy set up and the Wink 2 features a more powerful Wi-Fi radio than the original Wink hub, making the range of this unit much better than its predecessor. It has also undergone a style transformation and is now an upright unit instead of a wall mounted flat unit.
Overall, the Wink Hub 2 is a worthy successor of the original, and the general look and feel of the device seems to be a better fit as far as styling is concerned in this later model. Having Zigbee and Z-Wave compatibility in a single device makes life much easier for people with pre-existing smart device hardware.
Pros/Cons
Pros
Compatible with nearly all Smart Device products on the market today
Automation system is easy to use
Monitoring and scheduling works really well
Cons
IFTTT support is a little flaky
Range is still an issue for devices that are far away, like outside lights and locks
Compatibility – What Do I Need to Make It Work?
Wi-Fi and an Android or IOS phone or tablet and a Wi-Fi and an internet connection for best results.
With the Amazon Echo Plus, Amazon is combining a smart hub and voice activated system into one cylindrical unit. The new Echo Plus unit can now communicate directly with your smart home devices as it has all the smart hub functionality that you need built into it. A simple voice command such as "Alexa, discover devices around the home" will put the device into discovery mode, and all Zigbee, Wi-Fi and Bluetooth compatible devices will be enrolled through an intuitive setup process. All of this can be done without needing to use a smart phone app.
Amazon has taken out the middleman with this approach, which could eventually make for a much more streamlined smart home experience. The Echo Plus works with product ranges such as Philips Hue, General Electric, Kwikset and other Zigbee capable smart devices. The Amazon Echo plus is equipped with impressive voice recognition capabilities as well, with over seven microphones that can pick up your voice from the other side of the room with eerie accuracy.
The main drawback of the Amazon Echo Plus is that it is only compatible with Zigbee devices, so will not work for consumers that want to substitute it for a hub that has existing Z-wave devices. Consumers have also noted that the speaker is not an upgrade from the original Echo. We think these issues could be temporary and that Amazon has a long-term interest in controlling the hub category.
Pros/Cons
Pros
Smart Hub and Speaker combined
Voice commands can be used to discover smart devices
Zigbee, Wi-Fi and Bluetooth devices are supported
Cons
'Hands free' approach takes some getting used to
Not compatible with Z-wave
Compatibility – What Do I Need to Make It Work?
An internet connection and voice commands, along with Zigbee capable devices or Bluetooth and Wi-Fi ready smart devices.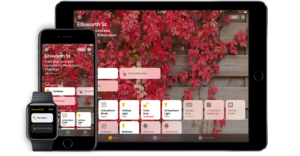 Apple Homekit is unique in many ways when comparing it to a traditional Smart Hub system, mainly because it does not require a Smart Hub to operate. The great news is that if you own an iPad or Apple TV device, then you are already in possession of an Apple Homekit controller. The system works over Wi-Fi and Bluetooth, meaning that proprietary standards such as Zigbee and Z-Wave are not needed to allow your devices to communicate with one another.
Where Homekit really starts to shine is with its typically easy to use Apple software, it is both intuitive to setup and use while being easy enough for even the most technically challenged members of your family to use with ease. Once you have powered on your smart devices, users simply need to open the Homekit application and the pairing process will guide you through step by step.
Remote access is also possible if you are away from home, but this is only possible if you have an Apple TV device or an iPad that is at home and connected to the internet. These two devices act as gateways between your Wi-Fi network and the internet, allowing your iPhone to communicate with the household remotely. Siri is also integrated into the system so voice commands can be used to control your home's smart devices.
Pros/Cons
Pros
Seamless Apple integration
Remote control functionality with iPad and Apple TV devices
No additional hub required
Compatibility – What Do I Need to Make It Work?
Users will require Homekit compatible smart devices such as smart globes and power plugs, as well as an Apple TV (running tvOS 10.0 or above), iPhone or iPad (Running iOS 8 or above). These devices are all Wi-Fi and Bluetooth compatible, so Homekit will have no problems communicating with your money saving Smart Home gadgets
Other Options to Consider
Some users that express frustration with the complexity of the SmartThings app have found more luck with the Insteon Controller or the Vera Controller, both which are significantly less expensive than the options that we reviewed. These options are less expensive, but lack the same breadth of compatibility and community support as the other options. For users that are focused only on sound systems, we recommend the Logitech Harmony Elite Remote Control.