Ohm Analytics Solar Index: Q1-18
After a difficult 2017, the residential solar market returned to growth in Q1-18, posting the first year-over-year growth quarter (+11%) since 2016. Full state and city details are listed below.
Subscribe to Ohm Analytics' Weekly Solar Index below and we will send you the latest Solar Index report, which tracks solar activity months before other sources.
Interested in Ohm Analytics Data Services? Learn more and schedule a demo here.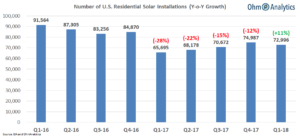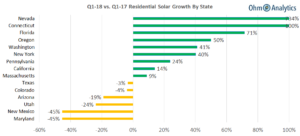 Individual State and City Reports
In addition to the full Solar Index report, which is available for download.  The following are links to the individual reports on states and cities. When citing our reports (please feel free to use images from the report or our site), please include a reference to OhmHome (ohmhomenow.com) and a link to this page or the respective city/state page.