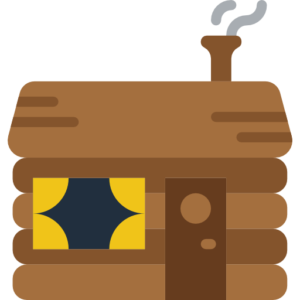 Solar panel kits can be used for a number of applications and are becoming more popular as the cost of solar panels has declined by more than 70% in the last decade. The most common use for solar kits are RV travelling, camping, boating and small off-grid cabins, as solar is a more attractive alternative to loud and smelly diesel generators or additional batteries.
These kits can also be used for a small building on your property that needs power, such as a barn or parking garage. Running electricity to these buildings can be expensive, particularly if all you need to power are a few light bulbs and small appliances. If you own a cabin that has a greater electricity demand and is off of the grid due to geographical reasons then a solar kit can be an excellent option.
There are also DIY solar kits for full-size homes (3kW – 5 kW) that have a larger electricity load (average residential solar size in the U.S. is approximately 6 kWs). These kits come with the same top of the line panels and inverters that you would get from a professional installer. People enjoy the thrill that comes from disconnecting from the grid or having back-up power. DIY solar can also generate energy savings depending on where you live and reduce the overall installation cost relative to a professional installation if you have the expertise to install the system.
For our review we have focused on 100W and 400W panel kits, which are most applicable to the RV/boating or small outbuilding applications that have smaller loads, but have also included advice on the best resources and options for large systems (3kWh – 5 kWh – Skip to section on larger systems). Most of the solar kits are also easily configurable to add additional panels as needed. If you are interested in solar panels for a boat, read our review of options as there are several flexible solar panels to consider.
Editor's Summary Recommendation
Our recommendation is the Renogy 100 Watts 12 Volts Monocrystalline Solar Starter Kit. It features a highly efficient monocrystalline panel, is built in the USA and offers good value as a starter kit.  Because it uses monocrystalline panels, it is lighter (19.8 lbs) and smaller dimensions that kits that use polycrystalline panels, which makes a difference for RV or boating applications. It can also be expanded up to 400Ws.
Best Solar Panel Kits Reviewed:
Solar Panel Kits Comparison Table
Solar Panel Kits Buyers Guide
Buying the right solar kit for your specific application is important if you are going to extract the most value and usefulness from your purchase. Some important things to consider are:
Basic System Components
The key items in a solar kit are solar panels, a charge controller, a battery, and an inverter. Some solar kits will include a few of these items, leaving you to buy the other components separately. Here is a simple diagram that explains how the solar system relates to each component, and what they each do.  Note that the solar kits in this review do not include batteries and we have included advice on several battery options in the Buyers Guide.
Image Credit: Renogy.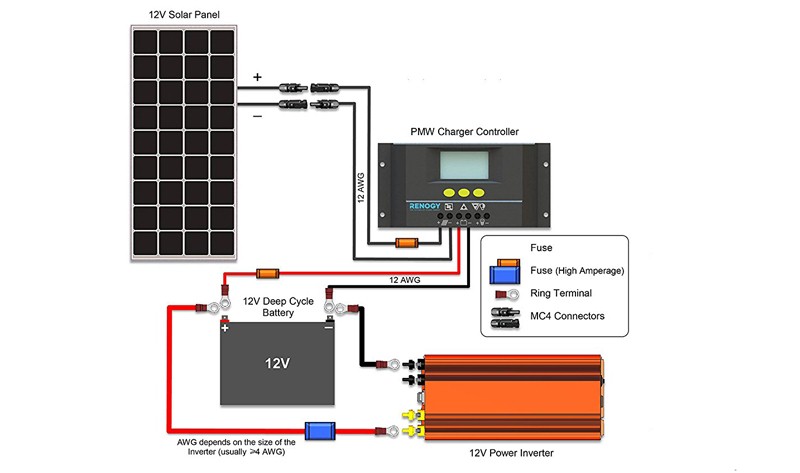 Grid Tie or Battery System
The next factor to consider is how you are going to be harnessing the solar power that your kit generates, as there are 2 options. The first is with a grid-tied system that takes your excess electricity that has been generated and feeds it back into the electrical grid. If you live in a state with net metering, you will receive credit for this power to reduce your utility bill. This option is a better fit for the full-size home systems that have grid access.
The second most popular solution is to have a battery installation that gets charged during the sunny hours, and then when it gets dark you can switch to an inverter which changes your stored DC voltage into AC voltage for your appliances. Most solar reliant houses will have DC LED lighting to make the most of the lower power consumption of these efficient lighting products.
A third and final option also exists, and it is a hybrid solution between grid-tied devices and batteries. Some high end battery systems will feed back into the grid once the batteries have reached a certain charge, but these are quite expensive and the feature is normally only found on these much larger systems.  Homeowners can use this third option if they want back-up power if they live in an area with frequent power outages.  These can also be a good investment in areas that have time of use rates, so power can be stored during the day when rates are the lowest and used at night when rates are the highest.
How Many Solar Panels Do You Need?
Working out your energy requirements is important before you go out and buy your next solar kit. Simply follow our guide and to calculate how many solar panels and batteries you will need based on your appliances and lighting. This is a very simple formula, but will require a bit of input from you.
Step 1: Estimate your total daily electricity load (in kilowatt hours (kWh) based on your appliances and lighting requirements. Calculate the wattage (amps X volts) for each appliance and then multiply that by the time it will be turned on to calculate the kWhs. The Department of Energy has a very helpful tool to do this.  Let's assume you want to run a 225W refrigerator (.675 kWh) and two 50W light bulbs (100W) for 8 hours (.8kWh). Your total daily electricity usage would be 1.475kWh (or 1,475 Whs).
Step 2: Calculate your solar panel requirements. Assume you will receive 4 hours of full sunlight per day (check the DOE for exact amounts in your zip code), so a 100W panel will generate 400Whs of electricity (100W x 4 hours). Take your daily electricity usage (1,475 Whs) and then divide that by 400Whs per panel = ~3.7 100W panels or 4 with some cushion.
Step 3: Estimate your battery capacity. We need to factor in bad weather, so we will multiply your daily electricity usage by 2 days as a safety measure in case we don't have enough sun to charge our batteries. Because we don't ever want our batteries to discharge below 50%, we will then multiply this number by 2. So your daily electricity usage is 1,475 x 2 days x 2 (50% capacity) =  5,900Whs.
Step 4: Next we need to work out our total amp hours that we will need for our battery installation. We do this by dividing our total daily watt-hours by our battery voltage which is 12v in this case.
Example – 5,900Whs / 12v = 491AH
Step 4: Check your battery's amp hour rating and then divide the total amp hours by your battery's amp hour rating. Our example batteries have 105AH per battery
Example – 491AH / 105AH = 4.7 batteries (or 5 to round up for cushion).
These calculators may also be helpful.
https://solarcalculator.com.au/
http://www.bimblesolar.com/solarcalc
Battery Options
Batteries are an important part of your solar kit installation if you plan on using your stored solar power when the sun goes down. Most solar kits don't come with batteries, so you will have to choose the best battery for your needs. Luckily you can use the above formula to work out exactly what you need to keep your system powered up when you need it the most, at night.
Here are some of the better options for your solar battery requirements:
Miscellaneous Technical Terminology
We understand that not everyone is familiar with of the terms and concepts that are used frequently when it comes to solar technologies, so we have included a simple glossary to explain some of the more common terms that you will come across when installing your solar kit.
Voltage – The force of electricity as it moves, measured in volts
Watts – This is an energy rating that we get when multiplying volts by amps
Amps – This is a unit of current, or a rate of flow. One volt across one ohm of resistance is equal to one amp.
Polycrystalline – This is a type of silicon wafer that is used in the construction of solar panels. It is made from many different crystals and is slightly less efficient than Monocrystalline panels.
Monocrystalline – This is a silicon wafer with a single crystal and is slightly more efficient than Polycrystalline panels.
Amp Hours – This measures a battery's energy capacity and measures the flow of current per hour
Solar Panel – This is a flat panel that absorbs light and produces electricity
Solar Cells – Multiple solar cells make up a single solar panel and there are many inside a solar panel
Here is another excellent resource, featuring a glossary with explanations of all the technical terminology that we use when relating to solar energy. https://energy.gov/eere/solar/solar-energy-glossary
Larger System Options
For those that require much bigger installations between 1000W and 5000W, there are high quality kits that include the same equipment brands you would get from a professional installer. These retailers also have helpful resources for permitting and financing. If you have the DIY skills, two people can probably complete the installation over a weekend. If you decide that DIY was not right for you, read our guide on how to choose a solar installer.
Solar Panel Kit Detailed Reviews
This is a well-built solar kit from Renogy, and it is capable in many different scenarios, from being installed on top of an RV or trailer, to being installed as part of a larger solar array, the Renogy 100 watt Solar Starter Kit is a solid choice. The panel is made from monocrystalline, which is a more efficient material than polycrystalline (smaller and lighter). This is because the yield of silicone is greater and of a more pure consistency on the mono panels as opposed to the poly panels. The kit comes with a charge controller, called the Renogy Wanderer, meaning that you can expand your installation up to 400w, or 4 panels at a later stage when you decide to increase your solar capacity. Some consumers have complained about the quality of the controller, but the company has recently upgraded the controller – the Wander is a good value and works for most people.
Renogy was started by students at Louisiana State University, is listed on the Inc. 5,000 List and is based out of Ontario, California
Pros/Cons
Pros
Well priced
Monocrystalline panels are lighter and smaller
Easy to install
Cons
Some complaints with the quality of the solar controller
Another good solar kit is the 100W WindyNation. It features one of the best controllers of the products that we reviewed, with an LCD display that shows statistical data such as voltage and the solar state based on the panel output of this kit. Whether you are installing it on your roof, your motorhome or even an outhouse or barn, you will find that this unit produces good results with its high-quality panel.
WindyNation manufacturers components for small wind and solar generators and is based out of Ventura, California.
Pros/Cons
Pros
Excellent controller
Easy to install
High quality
Cons
Slightly more expensive than other options
The Grape Solar kit is of similar quality to the WindyNation and the Renogy. The panel itself is a polycrystalline design, which makes the unit a bit more economical in terms of pricing, but slightly less efficient in the solar conversion process. The charge controller that come with this panel is also high quality.
Grape Solar is based out of Oregon and is one of the largest e-commerce solar companies in the U.S.
Pros/Cons
Pros
Reasonable cost per watt
High quality kit components
Good charger unit
Cons
Less efficient polycrystalline cells (heavier and larger)
The Renogy 400 Watt Kit is a set of 4 x 100w panels, coupled with a wiring and fuse kit, and all of the mounting brackets that are required to install them. They are a highly efficient monocrystalline cell type. There are bypass diodes built into the unit as well, which helps to maximize the power output of the device, even in low light conditions. The charger itself features a 4 stage charging method that allows your batteries to charge up evenly and at a set rate, which should prolong the life of your battery pack.
Pros/Cons
Pros
Comes with wiring and fuse kit
25 year performance warranty
Cons
Some complaints with the controller.
This solar kit is ideal for running items like small pumps and lights, and can be used for charging up your battery pack. There are 4 x 100w polycrystalline solar panels that connect up to a two diode junction for better performance. The charge controller that comes with the kit is also one of the better units that we have reviewed. The charger includes a 3 stage control, multi colored status LED, temperature compensation and a manual or automatic charge equalization feature. This kit is more expensive than the 400W Renogy as it comes with an inverter.
Pros/Cons
Pros
Easy to install panels in an array
Inverter has built in USB charger
Cons
May need additional, longer wiring