As part of Ohm Analytics' Q4-2017 Solar Index report, which tracks U.S. rooftop solar activity in all major solar states using a proprietary database, Ohm Analytics has released its 2017 Fastest Growing Solar Cities list. Overall rooftop solar activity declined 14% in 2017 from 2016 primarily driven by a change in strategy by Tesla (formerly SolarCity), but there were several bright spots of growth.  More discussion and access to the full report can be found here.
Top 15 Fastest Growing Solar Cities
Las Vegas was the fastest growing solar city in 2017 by a wide margin due the the return of net metering policy after a reversal of a 2015 decision that shut off the market. Policy changes also had an impact on growth in Florida which propelled Miami, FL to #2 on the list. As a sign of the dramatic shift underway in U.S. energy, five cities in coal and natural gas country (Texas and Pennsylvania) made the list.  Missing from the list were cities from the largest solar markets, including California (with the exception of Sacramento), Massachusetts, Hawaii, and Maryland, all of which experienced significant declines in activity in 2017.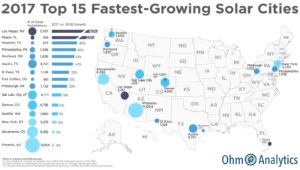 Notes on Sources and Methodology:
City installation volumes are grossed up to reflect the estimated volume in the MSA.
Data is based on building permits issued and adjusted for average cancellation rates.
Includes commercial and residential installations (primarily rooftop). Excludes utility scale projects.
What is Driving the Fastest Growing Solar Cities