Want to reduce your utility bill?
Turn up the AC in the summer without a huge bill?
Help the environment by switching to clean energy?
Great! These are all reasons that homeowners in Hartford, CT have been going solar.
If you've started to do some initial research or talked to a few solar companies, your head may be spinning with investment return calculations, leasing vs. buying pros and cons, and panel and inverter options.
We understand – solar can be complicated at first, but it doesn't have to be.
The research team at Ohmhome has compiled this guide to solar panels in Hartford, CT to help you through the process. The good news for homeowners in Hartford, CT thinking about going solar is that there is a lot of data available on cost, system sizes and financing options.
We've summarized this data, which is from government and non-profit sources (see list below) and was updated on September 2017. There is a lot of valuable information, so hang on (or just reference the table of contents)!
Table of Contents
Cost of Solar Panels in Hartford, CT
The cost of solar in Hartford, CT has dropped significantly in recent years due to the increase in module supplies and other supply chain efficiency improvements. According to the U.S. Department of Energy's Q4-16 Sunshot report, the median price of residential solar in major markets was $4.20 per watt with the lowest 20% at approximately $3.50 per watt.
Solar Savings in Hartford, CT
The following is a sample calculation for a 5kW System at $3.50 per watt or the lowest 20% range based on the Sunshot report.
$17,500

Estimated Panel Cost

(5kW * $3.50)

($5,250)

Less: Federal Tax Credit

$12,250

Final Cost After Federal Tax Credit

$1,221

Estimated Annual Savings

10.0

Payback Period

$36,630

Total 30 Year Savings
Solar Incentives in Hartford, CT
State and federal incentives can significantly reduce the net cost of a solar system.
In addition to the Federal Tax Credit (30% of the cost of the system after state rebates and credits), homeowners can take advantage of state and local tax incentives. The most definitive source for state incentives in Hartford, CT, is the DSIRE database for Connecticut, which is managed by the N.C. Clean Energy Technology Center.
The vast majority of U.S. solar systems are connected to the grid because without a battery system, a solar homeowner will need to draw power from the grid when their system is not producing.
Utilities have many different net metering policies, or structures in which they compensate homeowners for sending power back to the grid, so it is important to understand the details in your local area.
Hartford, CT has been graded a A for net metering policies and B for interconnection policies and procedures by freeingthegrid.org.
The IRS offers a 30% tax credit for solar systems based on the cost after state rebates and credits (discussed above). It is important to note that federal tax credit only applies to purchased systems and you need sufficient tax liability to claim the credit.
The federal solar tax credit was set to expire in 2016, but was recently extended through 2019, at which point it will start to decrease to 10% by 2022.
The IRS form 5695, Residential Energy Credits can be found here .
Solar Financing in Hartford, CT
Solar financing is simple, right?!
There has been an increase in options for solar financing in as the competition for low-cost solar loans, leases and power purchase agreements has increased. If you are still scratching your head about the differences between leases, PPAs, and purchases, refer to our lease vs. buy guide to understand the implications of solar financing options.
Savings Calculations and Methodology (Per Month)
| Month | Available kW / m2 / day | Max savings / month |
| --- | --- | --- |
| Jan | 2.95 | $83 |
| Feb | 3.50 | $88 |
| Mar | 4.07 | $114 |
| Apr | 4.30 | $116 |
| May | 4.18 | $117 |
| Jun | 4.08 | $110 |
| Jul | 4.30 | $120 |
| Aug | 4.26 | $119 |
| Sep | 4.13 | $112 |
| Oct | 3.31 | $93 |
| Nov | 2.57 | $70 |
| Dec | 2.82 | $79 |
The savings above are calculated using average utility rates in Hartford, CT from the U.S. Energy Information Administration and solar radiation data from the National Renewable Energy Laboratory . The supporting calculations are (using August as an example):
| | |
| --- | --- |
| 4.26 | kWh per day per square meter based on solar radiation data |
| x 25 | Square meters of a 5 kW solar system |
| x 18% | Solar panel efficiency (% of solar radiation converted to energy) |
| 19.17 | kWh of electricity produced per day |
| x $0.2006 | Average kWh price of electricity in Hartford, CT |
| x 31 | Days in August |
| $119 | Estimated savings in August |
Best Solar Companies in Hartford, CT
If you don't have the time to become an expert on solar equipment, economics and installations, a good shortcut is to find a trustworthy and capable solar company.
Choosing a solar installer is arguably the most important step of going solar for homeowners looking for the best solar companies in Hartford, CT and we recommend reading our guide on how to choose a solar company. An important consideration is whether to use a large national installer or a local installer. In many cases, a local installer that does not have high customer acquisition costs can offer you a better deal.
Data Sources
Solar Trends in Hartford
Hartford solar permits increased 25% to 20 in June from 16  in June 2016 and increased 0% from May 2017 (YTD increase of 31%).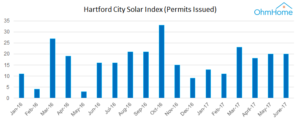 Footnote: Permits in June estimated by OhmHome due to data constraints.