On February 15th, the New York Green Bank (NYGB) released its Q4-2016 report, which highlights the state's commitment to expanding solar in New York. NYGB's mission is to accelerate clean energy deployment in New York state by working in collaboration with the private sector to transform financing markets. Since inception, the NYGB has received $1.8 billion in investment proposals and maintains an active pipeline of projects proceed to close of approximately $600 million as of December 2016.
New York Green Bank Q4 Solar Updates
The Q4-16 report included several important updates related to the state's progress in expanding solar:
The bank's active pipeline of $600 million consists of over 30% solar, more than energy efficiency, wind or bioenergy (see chart below)
The bank closed six transactions in Q4-16, including two with residential solar installer SolarCity:

December 30th – $20 million commitment to SolarCity's existing Revolving Credit Facility to build new solar projects, of which a significant portion will be within New York
December 9th – $30 million commitment to upsize a SolarCity senior secured term loan facility that was expanded to add new solar assets
The Q4-16 commitments add to the bank's existing commitments to residential solar including:
August 2016 – $37.5 million commitment to Vivint Solar
August 2016 – $25 million commitment to Sunrun
September 2015 – $25 million commitment to Level Solar
August 2016 – $50 million commitment to Mosaic Solar
The large commitment to Mosaic (vs. Vivint and Sunrun which generate most of their business through leases or PPAs), demonstrates the increasing trend of consumers choosing to buy versus lease solar panels.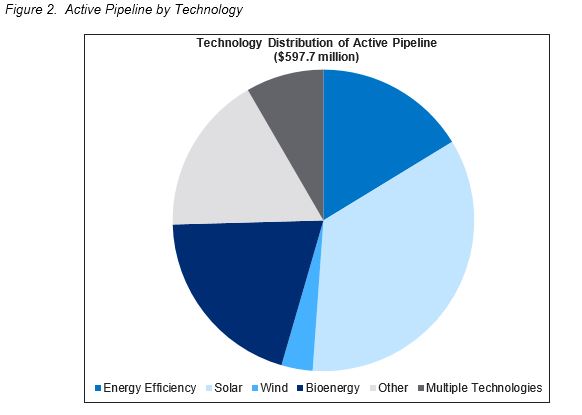 Residential Solar in New York
The NYGB's commitment to solar provided a healthy boost to the residential solar market in 2016.  Based on our analysis of NYSERDA data, residential solar in New York continued to grow in 2016 (albeit at a slower rate than in 2015) and reached an estimated size of over $600 million. Large national solar companies continue to be active in the state with Sunrun recently announcing a partnership with National Grid to expand solar in NY.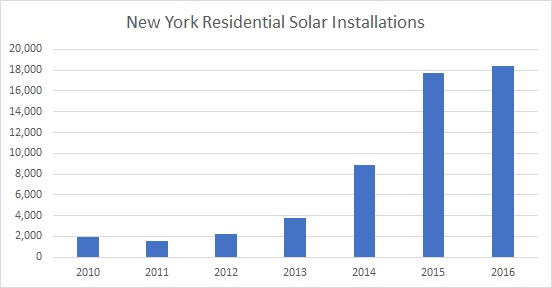 Solar Progress in All New York Regions
In late 2016, Mayor de Blasio announced that solar power in New York City has nearly quadrupled since he took office increasing from 25 megawatts to 96 megawatts with cumulative solar installations reaching 8,000. New York City has increased the targets to 1,000 megawatts by 2030.  Our analysts at Sunvago mapped the over 6,000 solar building permits (2013 – 2017) from the NYC Buildings department to see what New York City illuminated by solar looks like: