Sustainable CUNY released a Resilient Solar Roadmap for NYC through its NYSolar Smart DG Hub in an effort to increase the deployment of resilient solar installations and achieve energy storage targets. The DG Hub assisted in developing NYC's and the first municipal energy storage target of 100 MWh by 2020 in September of 2016. The roadmap is designed for NYC, but can be applied to the rest the market for solar in New York.  The roadmap identifies current market barriers and potential solutions for resilient solar growth.
Major Barriers
The DH Hub identified the following major barriers to resilient solar adoption.
Lack of Compensation for Grid Services – Resilient solar can provide a number of ancillary services to the grid, but is prevented from being compensated due to the high capacity limits for NYISO's programs which preclude distributed generators from participating. NYISO is currently exploring the integration of further DG through its Distributed Energy Roadmap process in 2017 (roadmap activities will culminate in 2021).
Lack of Value for Resiliency Services –  Resilient solar allows critical infrastructure facilities to serve NYC during emergencies, a need which was highlighted by Hurricane Sandy. These benefits are included in evaluations of solar projects for federal funding, but would improve the financial returns of resilient solar projects.  
Policy Risk and Uncertainty – New York offers attractive incentives for solar, but does not have a similar structure for storage.
Education and Outreach – Facilities managers and other stakeholders are not aware that resilient solar is an alternative to diesel generators or that costs have come down significantly in recent years 
State of Solar and Storage in New York
Solar in New York has grown rapidly in recent years, although residential solar growth slowed in 2016. New York State has a target of 3 GW of solar by 2023 and has already installed 871.75 MWs. NYC has a goal of 1 GWs of solar by 2030 and 100 MWhs of storage citywide by 2020. As of the end of 2016, 14 electrochemical battery storage projects totaling approximately 1,400 kWs have been completed in NYC. New York remains one of the few viable markets for behind the meter storage because of a combination of high demand charges and participation in demand response programs.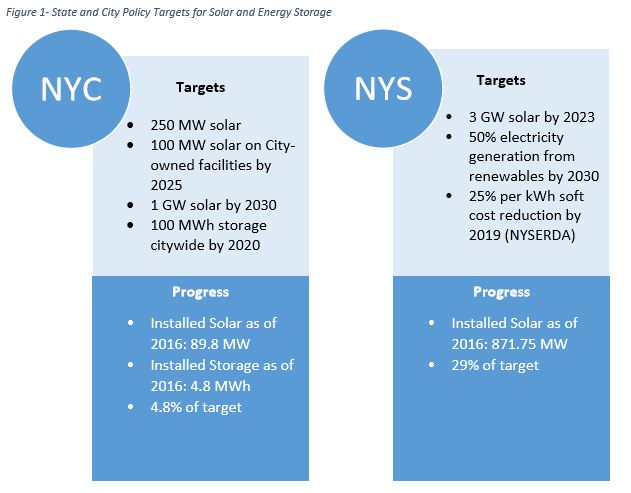 Credit: NYSolar Smart DG Hub 
Addressing Key Barriers
The roadmap goes into detail on several specific areas, including hardware, software and economics, which we have summarized below.
Hardware – The battery, module and battery management system typically make up over one-third of the overall installed cost of an energy storage system and installed lithium ion prices average $528/kWh. Hardware and installations also lack standardization of design and best practices. DG Hub recommends releasing installation best practices, developing plug and play equipment, providing more support for recycling options, and standardizing RFP templates as solutions.
Software – Solar+storage systems have many different components, devices, and points of interconnection that must work in a synchronous manner in order to realize all of the benefits. DG Hub recommends completing industry standards, increasing customer data availability (through smart meters) and reforming market structures for DER aggregation as solutions.
Economics –  Resilient solar systems can deliver electricity and utility bill savings outside of critical periods, unlike traditional backup generation. However, the initial capital costs for solar+storage systems remain high in contrast to traditional backup generation. DG Hub believes there are opportunities for state and local financial support of public facility resilient solar projects, DER aggregation, LMP + D compensation, additional lender support and a more accepted quantification of value calculation.
Policy – DG Hubs believes NYSERDA's Clean Energy Fund will fill a current gap for public funding of energy storage projects and will be more in line with other state programs, including the SGIP in California.
Quantifying the Financial Benefits
As a major next step in the roadmap, DG Hub will release a resilient solar calculator and information sessions with a particular focus on identifying opportunities by which resiliency can be monetized. The analysis will also include a "Value of Resiliency" analysis targeted at the groups that bear these costs (property insurance, commercial banking and government agencies).
Solar and Storage in Other States
California's SPIG program could provide a valuable model for New York. The program was started in 2001 with the primary goal of reducing peak loads and $83 million is allocated to the program annually. Energy storage systems receive an incentive of $1.31/watt with incentives being paid at installation or over a five year period based on kWh performance. The residential energy storage market is expected to grow significantly in 2017 in California, as solar in California has slowed in 2016 and installers look to expand their offerings. In California, residential systems can only receive the incentive if they provide grid services and there is an additional 20% incentive if the storage system is form a California supplier. This should provide a boost to California storage companies, including Tesla and Sunrun, which have been impacted by increasing number of solar customers that are trying to lease vs. buy solar. There has also been progress with vehicle to grid storage opportunities, which may increase as consumers add home electric vehicle chargers in California. The SPIG program has had the following impacts:
$117 million in rebates for more than 486 SGIP incentives
59 MW of capacity installed
280 energy storage projects totaling more than 22 MW